Recent news: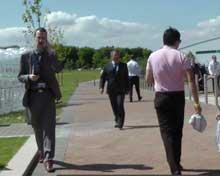 'From Non-place to Place' is an ongoing collaboarative project about sustainability and work-life balance in office parks.
Latest article:
The Romance of the Lowly Clerk in Organization [available via online first].
Quick research links:
From Non-place to Place explores work-life balance and sustainability at the Cobalt Business Park.
Allotment Work examines contemporary urban allotment production.
Project Skive looks interactively at how and why we waste time at work.
Hiding Out explores workblogging as creative resistance.
5Pointz investigates a legal NYC graffiti spot.

Crisis and Renewal reflects on Benjamin via Rimbaud & Forster.
I am a sociologist whose research focuses on work, with a particular emphasis on resistance, technology and work-life boundaries. I am interested in exploring ways of working and designing urban space to support equity, creativity and sustainability. My research engages with how individuals and communities cope in an era of intensification and ecological vulnerability, exploring questions such as: What is work and why do we do so much of it? What is the purpose of skiving? Why do busy people need allotments?
As an activist and educator, I am fascinated by the intersection between ethnography, new media and social change, and this is strongly reflected in my research and teaching. I am committed to making sociological ideas accessible and engaging to students, policymakers, research participants and the broader public.
I recently returned to my native Geordieland after many years living and working in the United States, where I obtained my Ph.D. in sociology from The City University of New York (CUNY) Graduate Center. I also have a Master's degree in engineering and economics from Oxford University and over a decade of professional experience working in industry/academia with a focus on organisational development and information technology.
I taught sociology at CUNY for several years, as well as recently lecturing in organisational theory and behaviour at the University of York's Management School. At undergraduate level, I am experienced in teaching urban and general sociology, qualitative methods and change management. My current research project explores, using an ethnographic, visual methodology at two allotment sites in Newcastle Upon Tyne, the contemporary urban practice of growing your own.
Following a career break to look after my youngest child, I am currently engaged in part-time teaching as well as continuing my allotment research and collaborating with researchers at Newcastle University on a project that explores sustainability and work-life balance at business parks. My bio/CV provides fuller information on my background and ongoing activities.